The real estate market in Fairfield, CT and all towns across Fairfield County experienced historic housing numbers from excessive low inventory, low interest rates on mortgages and high buyer demand for the suburbs. The housing market is leading the economic recovery and many believe that to continue but at a tampered down rate. The housing market was a shining star in 2020, fueling the economic turnaround throughout the country. As we look forward to 2021, can we expect real estate to continue showing such promise? Here's what four experts have to say about the year ahead.
Top economists gathered at the National Association of Realtor summit at the beginning of December 2020 for their top predictions for the 2021 housing market.
Lawrence Yun, Chief Economist, National Association of Realtors (NAR) believes that mortgage rates will remain stable in 2021 — with the potential for a slight increase from the all-time low of 2.71% we saw in 2020 for 30-year, fixed rate mortgages.
"In 2021, I think rates will be similar or modestly higher, maybe 3%…So, mortgage rates will continue to be historically favorable." 
Next Advisor is predicting mortgage rates to see small increases throughout the year while remaining under that 3% threshold. As detailed in a Forbes magazine article, Danielle Hale, Chief Economist, realtor.com states:
"We expect sales to grow 7 percent and prices to rise another 5.7 percent on top of 2020's already high levels."
Robert Dietz, Senior Vice President and Chief Economist, National Association of Home Builders (NAHB)
"With home builder confidence near record highs, we expect continued gains for single-family construction, albeit at a lower growth rate than in 2019. Some slowing of new home sales growth will occur due to the fact that a growing share of sales has come from homes that have not started construction. Nonetheless, buyer traffic will remain strong given favorable demographics, a shifting geography of housing demand to lower-density markets and historically low interest rates."
Mark Fleming, Chief Economist, First American
"Mortgage rates are expected to remain low for the foreseeable future and millennials will continue forming households, keeping demand robust, even if income growth moderates. Despite the best intentions of home builders to provide more housing supply, the big short in housing supply will continue into 2021 and likely keep house price appreciation flying high."
In the end, the 2021 housing market is predicted to continue its rise in home values and low mortgage rates. Whether a home buyer or seller, either one will bring gains in asset value.
The big winner in the 2020 market was home equity. If you were a home owner in March 2019, home prices increased by double digit percentages in many towns across Fairfield County cementing in the fact that home equity is a key component in building wealth.
Homeownership has always been the first rung on the ladder leading to household wealth. As Freddie Mac recently posted:
"Homeownership has cemented its role as part of the American Dream, providing families with a place that is their own and an avenue for building wealth over time. This 'wealth' is built, in large part, through the creation of equity…Building equity through your monthly principal payments and appreciation is a critical part of homeownership that can help you create financial stability."
Home equity is the difference between the current market value of your house and the amount you currently owe on your mortgage. To estimate your equity, subtract your mortgage balance from the market value of your home.
Is homeownership truly a better path to wealth than renting?
Some argue that renting eliminates the cost of property taxes and home repairs. Every potential renter must realize that all the expenses the landlord incurs (property taxes, repairs, insurance, etc.) are already baked into the rent payment – along with a profit margin. You don't save money by renting.
As proof of this, First American broke down the net worth of homeowners and renters by income categories. Here are their findings: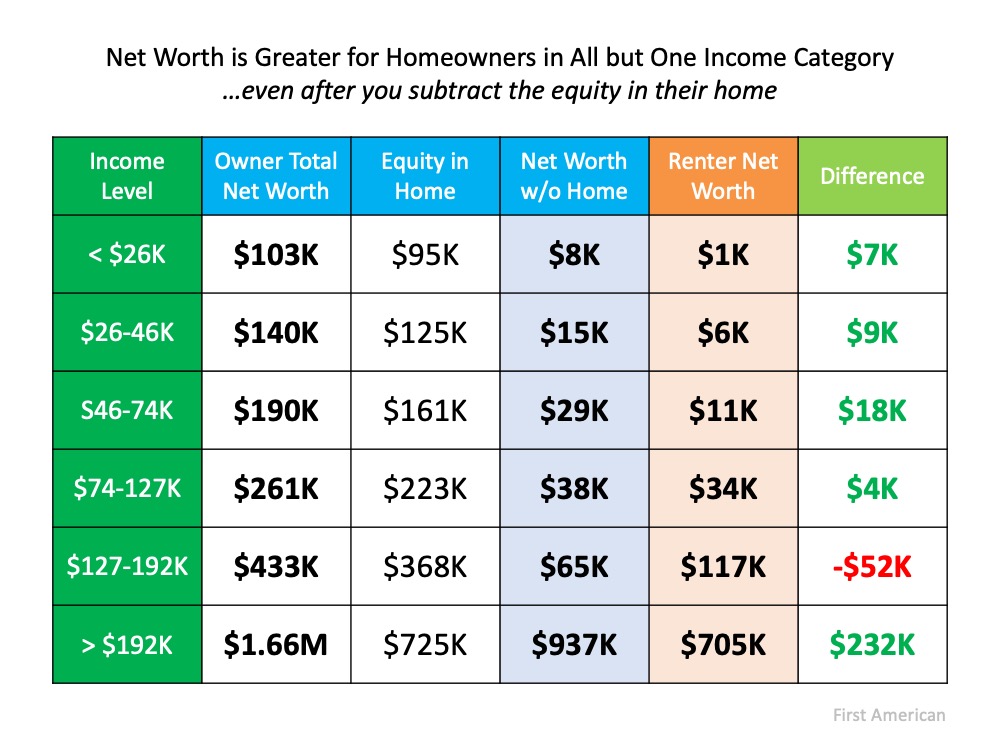 Only one income category ($127-192K) has a higher net worth for renters over homeowners. Every other category shows that being a homeowner leads to greater accumulated wealth.
According to the latest Homeowner Equity Insights Report from CoreLogic, the average homeowner gained $17,000 in equity in just the last year. Here's a breakdown of the year-over-year equity gain by state: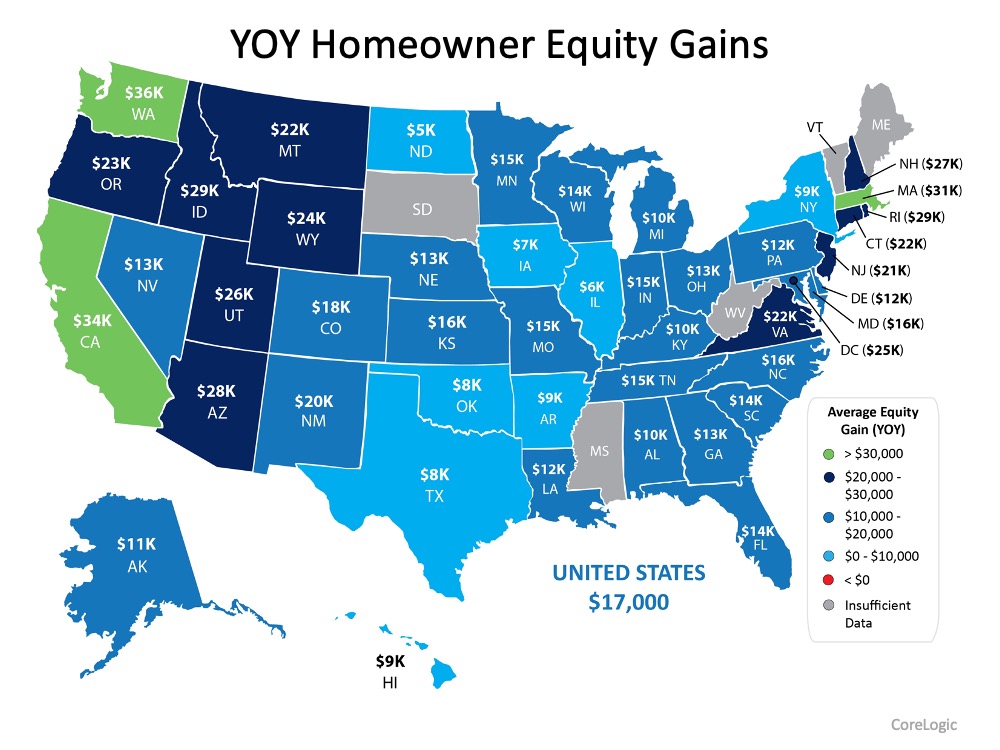 When can you cash in on your housing wealth?
Your home equity is part of your total wealth as a homeowner. The two most common ways homeowners can leverage their wealth are:
Selling: When you decide to sell your home, the equity you've built over time will come back to you in the sale. For example, if you paid off your $200,000 mortgage and sold your home for $350,000, you would receive $150,000 after closing.
Refinancing: You can refinance your current mortgage and take out some of the equity you have accumulated. With today's historically low mortgage rates, you may be able to take out substantial cash and keep your monthly payment the same. Thankfully, homeowners today are doing this responsibly and not repeating the same mistakes made in 2006-2008 when some cashed out their entire equity to purchase luxury items like new cars, lavish vacations, etc.
How can these options help homeowners?
During these difficult times, many households are struggling with their housing expenses. Homeowners, because of their equity, have better alternatives. Odeta Kushi, Deputy Chief Economist at First American, recently explained that homeowners financially impacted by the pandemic will not necessarily be faced with foreclosure:
"The foreclosure process is based on two steps. First, the homeowner suffers an adverse economic shock…leading to the homeowner becoming delinquent on their mortgage. However, delinquency by itself is not enough to send a mortgage into foreclosure. With enough equity, a homeowner has the option of selling their home, or tapping into their equity through a refinance, to help weather the economic shock."
What might the future bring?
Most experts are calling for home prices to continue appreciating going forward. The Home Price Expectation Survey, a survey of a national panel of over one hundred economists, real estate experts, and investment & market strategists, indicates appreciation will continue for at least the next five years. Using their annual projections, the graph below shows the equity build-up a purchaser would potentially earn by buying a $300,000 home this January:
Whether you're ready to buy or sell a home in 2021, if you're planning to take advantage of the real estate market this winter, let's connect to talk about the opportunities available in Fairfield County. Contact me by phone, text or email, I am always available for a consultation.